Monday, September 28. 2015
Skylanders SuperChargers came out on the 20th but I wasn't too interested in it because it has racing in it and it's basically too much like Mario Kart now. Anyway I got really lucky as some seller put discs of the game up on Friday for $25. The set with figures and portal is typically $75! Anyway you don't really need the portal this year and the game comes with instant figures, so you don't really need those pack-in figures either. So I bought it and it arrived today (super quickly!). I noticed today that the same seller jacked the price up to $40 and hasn't sold a single one since mine. LOL! Oh well! I thought $25 was really reasonable and it'll quickly go down to that much in a month anyway, so I got mine early.
I wandered around today visiting several stores but there wasn't anything much of interest. I got my D Frag #6 from Barnes and Nobles. I overpaid, but it's worth it. This volume has my favoriate parts of all for the series. I read about half the comics I got last night and enjoyed them. Anyway, it's a short post for today, lots of gaming to do!
Sunday, September 27. 2015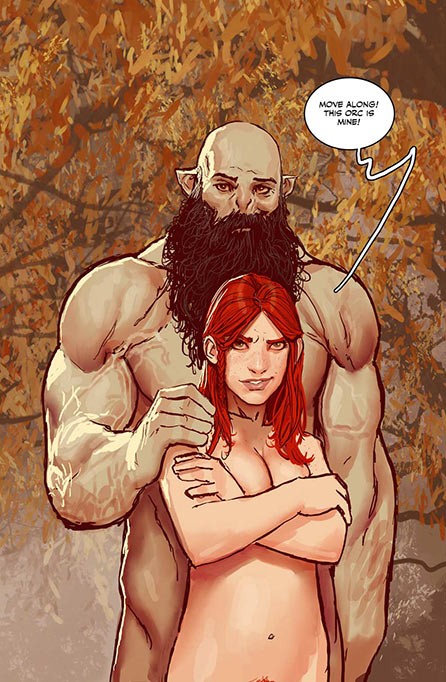 Rat Queens! An orc and his mistress. <3
Just got back from the comic show. A routine event but it's been about a year since I've been to one, so it felt good. Seen a couple cosplayers, all female. I think two Harley, a few characters that I didn't know and a Steven Universe girl (the pink haired one). I wanted to get an image of the Steven Universe girl for my friend Ben, but alas she took off before I could finish looking though a row of comics. Oh well!
Saw a Tardis there, but it was rather shabby and awful looking. They had a pair of really shabby looking black guy zombies manniquins that the black ninja woman from the Walking Dead leads around on leashes. They looked awful as well. And they had a car of some sort that was probably for spies of some film that I've never seen.
Anyway, the show was just a little bigger than expected, but only just a little. Sort of like the Syracause one from last year, so I'm glad I didn't have to travel a ways for that. I spent about $50 and even then it was on stuff that I was semi-interested in rather than wanted really badly. I'll make the list below mainly so I can remember what I bought years from now and go, "Oh yeah, I remember getting this now!"
Uncanny X-men Vol ? #14 -- I don't exactly care for X-men but this is the one with the gay guy named Ben transforming into various characters. Wanted this one for ages ever since my british friend Ben told me about it. $1.00
-----
This one booth had a bunch of fairly new comics from this past spring and summer for 50% off, so I got a few Harley Quinns (cheaper than getting the GN this Christmas time) and a comic that I didn't know was a comic. I had a cool image of an orc with a girl which I just thought was a random fantasy image, but it turns out to be a comic series from series called "Rat Queens". So from there I got:
- Harley Quinn #13, 14, 15, and 16, Harley Quinn & Power Girl #1 and 2 and Harley Quinn Valentine Special for $17.00
- Rat Queens # 9 and 10 (I'll probably get the GNs as I doubt I'll ever be able to find the early issues).
-----
Another booth had 50 cent comics and a good deal of indenpendants that I like. I put back a few as I'm trying to cut back on compulsively buying stuff that looks cool and get only stuff that I actually plan to read. I did get some really obscure indy stuff though.
- Pork n' Beans #1 -- Really wild art. Thumbing though, the story seems a wild college girl and her slice of life wacky adventures. I've a lot of comics like that.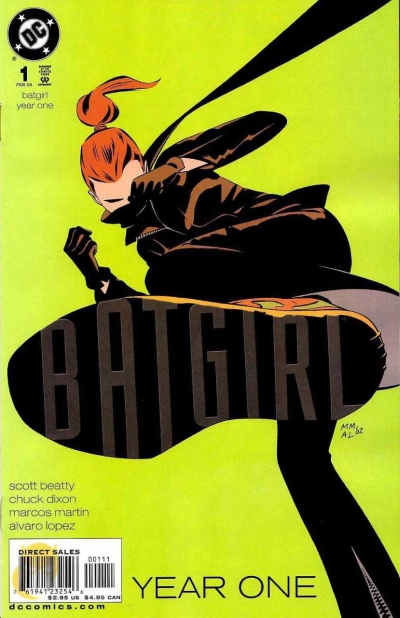 Where can I get a pair of Batgirl-Nikes?
- Superman Family #214 -- I really need to make a list of what issues I need from this as I have at least half of them. They have Supergirl, Lois Land and Jimmy Olsen comics all towards the end of their pretty long runs, but collected in a thick comic. It seems no one at DC had the nerve to cancel the whole lot of them as these went on for a few years longer than they shoud have.
- The Teen Titans #51 -- I got into Teen Titans rather late as I never cared much for their 80s "new" adventures. But this one is from the Duela Dent era and I'm curious about her. Worth a try.
- Wild Girl set 1 though 6 -- This one looked pretty interesting. A goth/emo/agnsty loner girl doing stuff. Covers are pretty cool too!
- Mythography #6 -- I am pretty sure I have a Mythography number something...perhaps two of them. A collection of random stuff tossed together, often with a fantasy theme. This one has an interesting dragon story at the beginning and I've been in a fantasy mood lately, so I couldn't put it back. Has a ton of artists I recognise too. A Donna Barr (Desert Peach) story, a Michael Cohen (Amelia Rules!), an all too short Barry Blair (Elflord) and several others I rememeber seeing in the indy bins from over the years. These artists gets no respect at all. I sometimes wish I could met these artists but I'm sure alot of them rarely leave their states or even produces comics anymore.
- Doom Patrol #122 -- This one stars the ever silly villian Animal-Vegetable-Mineral Man and I just read a comic with his appearance last week in Ravengers #11. I couldn't resist buying it to read more about the guy.
- DC Comics Presents Superman and Dial "H" for Hero #44 -- Somehow I missed a Dial H comic from the 80s. It was always such a dorky concept but Ben 10 made it cool for an entire generation of kids. Still I like how the dials messed up the kids in the 80s version and more recently the dials are more "evil-ish" and they wreck lives more so than help humanity in any way.
- Cavewoman Meets Explorers #1 -- Never saw either series before but the artists on the project I have seen in many other places. Explorers seems rather interesting, and I may check that series out later. Never cared much for Cavewomen type comics and she looks a lot like a Sheena type.
- Batgirl Year One #1 - I've stopped Batgirl when they got the mostly mute asian girl to be the then new Batgirl. I think this is the reboot right after that or something. The art style seems very close to 2015's Batgirl (very alternative), so I couldn't resist.
----
And the last thing I bought was two graphic novels (#1 and 4) of "Saga". It's bothering me as I swore that I have Saga issue one as I totally remember that issue. It was about these two demons (the nice kind, not the type that would rip you a new hole in your body) and the lady demon had a baby in the woods and they semed rather happy about the event. Thumbing though, it seems it's more slice of life stuff about demons, odd superheroes, and just in general strangeness...totally my thing!
----
Oh yes, I paid $3 for a used Teen Titans Go Terra Figure. It was a bit high, but then again when am I ever going to find another without having to pay $3 shipping to get it? They are a bit harder to get, even though I did find a Raven at a garage sale for $1 this summer. So now I can sell my packaged Terra figure which is probably worth upwards of $50 now as I don't really need a packaged one with a Beast Boy next to her.
So I'm pretty happy with my haul. I felt I should have done better and got lots more but then again if they cannot get the sellers to come set up, how am I going to buy anything? I just may write a review for some of these comics after I read them. Gotta have something to talk about all week long, right?
Saturday, September 26. 2015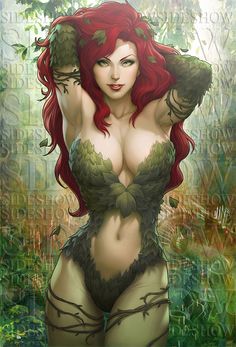 Today I got an email from my powweb that my yearly subscription was due up. They are pretty pricey now, so I looked around and discovered that I was getting it up the ass big time. Powweb was a big name player...15 years ago. Seems they are not so dominate or recommended these days. I can see why...the place where I get my domain redone every year (Godaddy) has a dollar a month hosting for an entire year. So $144 vs $12 for the year? Well it doesn't take a genius to figure out what I immediately done this morning. I've been with the powweb for 14 years and much like the car insurance I've been with for like 20 years, it doesn't pay to stick around when they keep upping the rates. In this day and age you just don't maintain loyalty with a company as they won't do you any favors. You have to jump around for the best bargains.
Anyway, it seems a waste to have a website just for ebay images which is what I've been doing since 1998 or so. Then again, I'm not really into social media nor do I find myself interesting. The old blog I had up on the old site hasn't been touched since 2011 but I have been meaning to do it again and now is a good time as any. If anything it'll be a nice diary to see how I spent my years.
It was a lot of work though. Lots of new programs to figure out and other annoying stuff which I had to do to make this all work. I've not done stuff like this in over 10 years, so a lot of it is easier now, but only just slightly. It seems that Godaddy has some really good apps which powweb doesn't. I probably would have switched years ago if I knew this (and that the prices just about elsewhere are lower too.) They had a selection of 10 or so blog apps and lots of other stuff which I've not even begun to explore yet. I doubt I ever will but who knows?
Anyway, I've already spent over eight hours messing around with settings and different apps and struggling with email clients and making sure everything is just right and that I didn't screw myself over for this endeavor, so I'm really spent. At least it wasn't days and days of messing around and tearing hair out of my head like so many years ago. Luckily I've not forgotten how to do a lot of these annoying website things, so it went by a bit faster, but it could have been a better and faster process if things were explained just a wee bit better.
Anyhow, I'll upload a random image just because I like images! I'll probably end up doing that a lot whenever I have nothing else to say. Tomorrow should be interesting as it's a comic book show! YAY!
I hope you will enjoy my new blog!
« previous page
   (Page 1 of 1, totaling 3 entries)   
next page »