Sunday, November 15. 2015
Björn J:son Lindh, Staffan Scheja - Spirits Of Europa LP
Noel - Dancing Is Dangerous 12"er
Tandy & Morgan Band - Earthrise LP
Concrete Blonde - Walking in London CD
Puppet Master I & II (Original Motion Picture Soundtrack) CD
Talk Talk - The Party's Over CD
Went to the record show today, something I've been doing twice a year for probably 20 years now? Something like that. I wasn't going to go this time but forced myself as I knew I would be pissy that I skipped out on it. I got there at noon and it was same old, same old. I barely spent anything as I was trying hard on holding back, only buying the really unique stuff cheap. Sadly the unique stuff I wanted was mostly overpriced as usual. LOL So I got: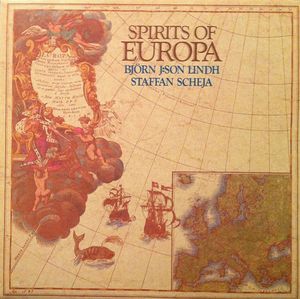 Björn J:son Lindh, Staffan Scheja - Spirits Of Europa, I'm not entirely certain what this is but it seemed progressive or new age. Often I test stuff on youtube over my cellphone to see if it's worth getting and it seems so!
LINK TO THE LP.
Typical mid-80s new age, which can be hit or miss, but this one song seemed interesting enough. $1.00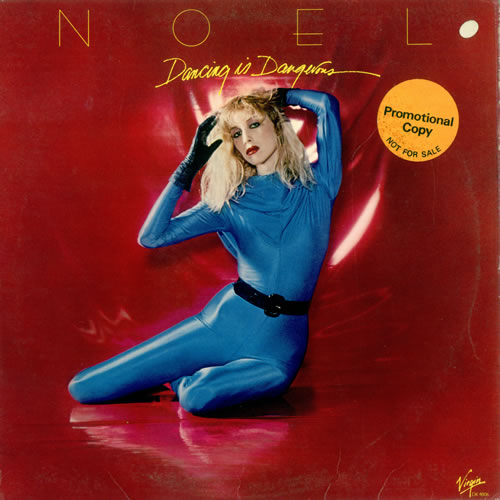 Dancing Is Dangerous - Noel 1979, went to the next booth and they had lots of $1 cds, but they were all 90s and 00s alternative rock stuff. Thier $1 LPs were common picked over 70s stuff. One LP though, this Noel interested me, not for the obvious reasons of a hot chix on the cover, but rather I was confused as there was a mid to late 80s artist named Noel that I knew of which I liked, but that one was a greesy hispanic guy doing dance/synthpop without being as awful as most of it was around 1988ish (I think the producer was Jellybean, his stuff is rather good). ANYWAY, this other Noel is some woman in Spandex looking very slutty for the time. I looked on the back and saw "Produced by Ron & Russell Mael." Well that's all I needed to know, that's the "Sparks" Brothers, one of my fav groups!
LINK TO THE LP.
Seems this is in 1979 which would be "No. 1 in Heaven" related. Sounds a Moroder disco tune, which makes sense as Giorgio Moroder produced their LP that year yet I don't see his name on this release at all. This Noel sounds very close to Russell Mael in pitch and tone and the lyrics are very Sparks, so it may just as well be a Sparks song! If I'm not mistaken, Russell did crossdress (I still insist that's him on Kinomo My House and not "Michi Hirota" LOL!), so it could be him on the cover for all I know. LOL! Joking! Anyway, I just read a review from discogs.com and someone else on there said the same basic stuff about the release (other than the crossdressing Russell stuff). LOL! Seems I really know my Sparks, yet I never paid much attention to their side projects. I'll have to pay a little better attention to that to find more gems like this! $1.00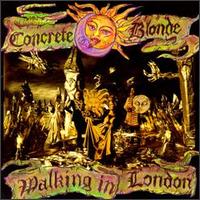 Concrete Blonde - Walking in London CD, I looked though a few hundred CDs and found only two which was rather disappointing. Actually, if I brought my portable CD player as I had intended to do, I would have tested a lot of them out (such as the Crowded House and related band member stuff), but oh well. Anyway yesterday I was enjoying Concrete Blonde's "Bloodletting" song. I got that cd ages ago and I was rather disappointed in it at the time. Bloodletting the main single itself grew on me over the years and it's now one of my favs from the goth genre of music. It was even in some cheesy remake of an 80s film that was so gowd-damned awful other than it's constant reuse of this song in a very sexual way, which got me into really enjoying it for the last few years. So I found "Walking in London" and bought it without question. I popped it into the car on the way home and wouldn't you figure it, eventhough it's the album right after Bloodletting and it's NOTHING like that at all. It's pure straight out rock, almost metal. It's good but there wasn't a single trace of goth, which is what I was looking for more of. It's not a bad buy though as the songs were really tight and enjoyable but it's no Bloodletting either! I'll probably need time to let it grow on me like the prior album
LINK TO THE LP.
$1.00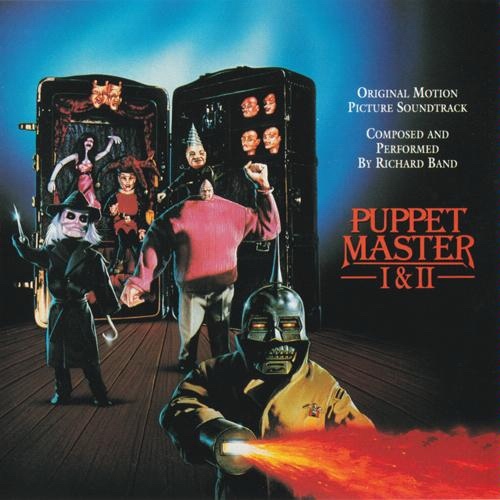 Puppet Master I & II (Original Motion Picture Soundtrack) CD, literally the LAST cd I looked at out of some 700 or so was this one. LOL I love the main theme from Puppet Master and I rebought the same Full Moon best cuts cd over and over for that one song and ultimately sold the cd as it was rare or something and never worth just that one song. I've never seen an actual Puppet Master CD. Seems this one is $10 rare, so I may end up selling it too, but it has a bit more tracks for me to enjoy, so I'll probably keep it for a while. $1.00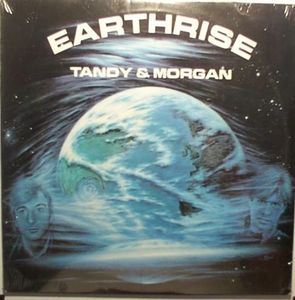 Tandy & Morgan Band - Earthrise, there was a new guy for once that made his way up here, but his stuff was so picked over and awful that he really should have tossed the sh*t into the trash rather than try to bother. If he sold them for a dime each, I would have refused most o it as it was pure junk. Mostly 80s hi-NRG stuff and obscure getto rap trash people which no one really wants. People up here are looking mostly for obscure 50/60s 45s or dead common 60/70s LPs and rarely anything else. That is rough as the stuff I like is extremely rare to find at the shows, such as Italio Disco/Synthpop/Prog/Electronic, etc.
Anyway I looked though it all and there were some goodies I would get for like a quarter but nothing really interesting for a dollar other than this. Whenever I come across a name with an interesting cover art (which is so rare after some 20+ years of looking and collecting) I tend to get rather interested, especially when there is a stereotype progressive rock type cover. But being mixed in a lot of dance crap really interested me as it just didn't belong and I had no clue that to expect. At best probably something like Voyage (funky proggy disco). I tried a sample on Youtube and it was great. Synthpop with lots of lush snyths. Got it home and done a little research and it turns out to be two band members from ELO (seems the UK knows who these people are but they are all unknown people in the US) and this was released between "Time" (one of my favorite LPs of all time) and the absolutely dreadful without any redemption "Secret Messages." I've seen some call it the missing album between the two and I feel that they are correct. It's no Time but it's not complete trash like Secret Messages either. No clue why it was in with a bunch of trash but I'm glad to have it. Oddly there seems to be at least 4 different LP arts to this from over the years. Dunno what's up that, I'm guessing different arts for different parts of the world. Today, I seen a re-release Ambrosia first LP replaced with their faces instead of the cool prog art (to cash in on their later disco fame no doubt), so it happens for whatever reasons. There is a CD with bonus tracks that I may consider getting if I really warm up to this Earthrise LP, which I probably will as it's rather ELO related. Then again I never warmed up to that Violinski LP (the Violinist to ELO) other than the wonderful Clog Dance song so who knows?
LINK TO THE LP.
$1.00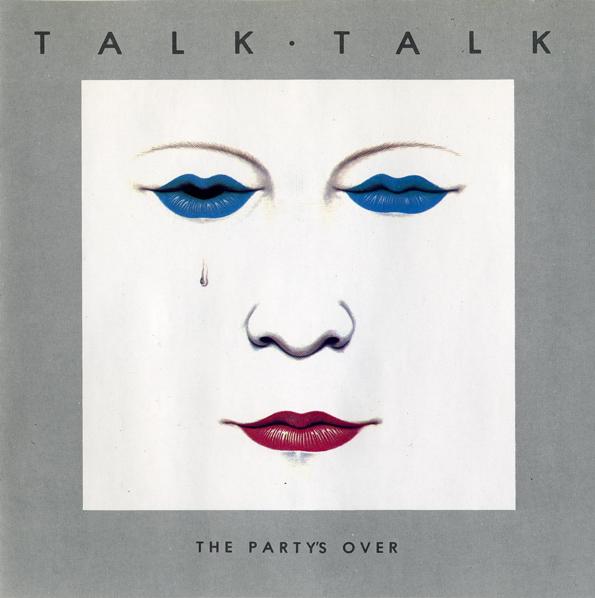 Talk Talk - The Party's Over CD, aptly named for the last find of the day. I've been after the right Talk Talk albums on CDs for 20 years, but always finding the dreadful progressive one that no one likes and best of ones. This one was only $2 so I got it. I seen the one right after this one as well but I wasn't in the mood as I knew those songs weren't very good. Talk Talk released a TON of singles and remixes which is why I loved them so when I was first getting into music back in 1992 or so, but it seems their LPs are full of awful filler that is unlistenable. I think that's why they moved to progressive albums as they were not really into the New Wave scene but were prog artists that lucked into a few hits and shoved anything onto the albums to fill them out. Me thinks that they knew how to make some really good artisy New Wave much like New Order, OMD, etc but didn't really try too hard or something. So they released a ton of various singles like Ultravox, Heaven 17 and simular bands had done in the early 80s. I've piles of the singles and remix UK imports from bands like this, so it was quite a thing back then or something.
LINK TO THE LP.
$2.00
And that's it really. A small haul. There was an Ian Matthews LP that I was thinking about (
LINK TO THE LP.
) but I just couldn't recall why I was interested in him. Turns out he was in "Fairport Convention" which would be why, but the LP is too slow going AOR for my liking. Slow AOR can be OK but most of it sounds so much like every other of it's ilk and it gets boring really fast. I believe that I have his "Tigers Will Survive" LP which is a bit proggy and rather good (
LINK TO THE LP.
) and that led me to assume all his stuff is like that. Luckily I tried it online and heard it was too AOR for me and thus I put it back.
Seen Steeleye Span's "Storm Force Ten" but that group is so hit or miss that I didn't want to take a chance.
LINK TO THE LP.
Sounds like Anne Haslam doing strange songs. Seems I probably should have picked this one up as it's related to the same period Jethro Tull stuff as the two bands were working together or something. But I see this album is also a contractual obligation so that's not a good sign. I'm sure I'm not missing much and I'll get back to this band some day and better explore what they have to offer.
A seller had some really rare stuff for $2 each but I had them. Larry Fast's Synergy LPs, obscure Walter Carlos (before he became Wendy), etc. Certainly worth it but I don't need multiples! Another seller who generally has no clue about anything past 1970 somehow got lucky and got a sweet collection of prog and punk but sadly he priced it all at $5 a pop. He knew enough to do that, right the old fart!? LOL He had a ton of stuff I would have bought at $1 or $2 an LP, but he had no clue what was what, for example putting Greenslade into the punk section. LOL Whatever! There is this one guy who has tastes like me and he always picks up huge piles of stuff, which pisses me off as he's much quicker than I am and cleans these booths out before I could look at anything. Always picking up prog, New Wave, punk. I'm thinking he must be a reseller or someone with the coolest tastes ever. Alas he also looks extremely scary (like the Mr. Clean bottle guy but with a scrowl on his face all the time) so I never worked up the nerve to talk to him. LOL! Oh well!
Well that's the last of my fun until April or so. I used to be able to go out futher to have fun, but alas with Mom here I'm rather limited to how far I can go. I really wanted to go to a video game convention event in Syracuse this weekend as they had the Angry Video Game Nerd there and other fun stuff. Oh well! Can't have them all. I was hoping the record show would make up for that, but it didn't really. BOO! This time of year is good for sales online though. Bought some Skylanders that I needed to fill holes in my collection. There is no real reason to pay new prices for them really if you can hold off. This year I've spent about $60 on the SuperChargers while last year I spent around $600 or so on Trap Team. OW! LOL! But I am always buying ones I need for my collection, but usually under $5 a pop unless they are harder to get or rare.
There was something else that had happened that was REALLY cool and luckye, but I'll discuss what had happened when the items actually sell as I'm farly superstitious like that. Basically dumpster diving can be really good if you check out the posh stores bins also. I've been checking the video game store only all this time and finding mostly low end stuff, but it seems that the posh stores also tosses away incredible things too. Oh, I did pull out a huge box of gift set books with doll clothing but it seems they are universally being dumped everywhere and next to worthless on ebay, so I plan to donate them to one of the local charities that does Christmas gifts to kids. That's far better than tossing good stuff in the trash, you know? What's strange is that the box had "donation" written on it, meaning that someone had intended for it to go to charity, but it was right in the dumpster. JERKS! So it'll be going where it should have went. Merry Christmas! LOL!
Friday, November 6. 2015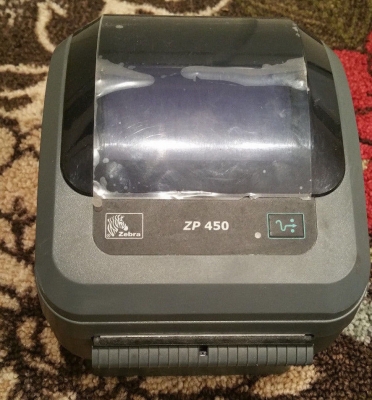 I
don't typically write reviews of stuff but I felt it was my duty to write one for a recent purchase of mine as there was so much misinformation and lack of anything really useful to help me buy a label printer. I tend to really fuss whenever I have to spend over $20 for anything electronically (Yes I'm really that cheap) and this to me is basically a very overpriced printer. I mean, an ink jet printer can be had for $40 and they want something like $300 new for a a label thermal printer?
They are so expensive that used ones goes for around $100 if you're lucky and $150-$175 if you rather not wait. But it's tech, so I get nervous about stuff that I have no experience with as I've bought loads of cheap tech though garage sales with mixed results. Generally when I'm going to pay a "lot" of money for something, it is required for me to play with it and test it out enough to get a feel if it's worth buying or not. For example, I spent nearly an hour testing my $75 laptop at the pawn shop. I spent weeks researching dehumidifiers as I had no experience with them to justify paying $250+ for one. There is no way to do test something as obscure as a thermal label printer so it became a huge deal for me.
I spent about 3 days researching (really 5 days in total, but I ignored it for whole two days) but I was never really satisfied with anything I read. Then on a random price check, someone just put one up on ebay for $110 shipped. It was only up there for 20 minutes and I knew from my days of looking that it was quite under-priced for what it was (a newer 2012 model basically) and it wouldn't last very long and I had to act immediately as it could be days before I found another like that for that price.
So I took the plunge and bought it. Luckily everything went well, but basically I spent WAAAY too much time worrying about it for nothing and if anyone had written a decent review about the product and offered helpful hints about it and explained what to do to set it up, it would have saved me a load of time in making a decision on buying one.
Basically I guess that I want my wasted time to be somewhat justified and deemed useful if I can somehow see that I had helped at least one other person into making a informed purchase on it. Sorta sad needing that sort of reassurance really, but whatever it has helped me greatly to vent and waffle on about it, so it is what it is, right?
Anyhoo, this is what I wrote:
This review is for a used Zebra ZP 450 which I bought off of a competitor's website for $110 shipped in November of 2015. It was a very intimidating purchase as there was so little useful information out there and nothing really made me feel all that comfortable about buying one. I spent days and many hours doing my research on numerous label printers before making the plunge on the Zebra ZP 450 and I'm glad I did because it does make the processing of my eBay orders so much faster and easier. My experience is with a Windows 7 setup and I don't know if they'll work with a Mac or with an older Windows setups. Everything I'm writing in this review is based on my November 2015 experiences with the machine. Facts, my helpful hints, prices and other good stuff of that nature which I'll be expressing will probably change somewhat as the years go by, so if you are reading this in the far future (Hello future people), please don't chuckle too much about how outdated some of stuff is in this review.

The ZP 450 machine was originally made for and was intended to be used by UPS users. I don't know the full details behind why that is so but you'll see a lot of people mention this and customers fussing about if they can use it elsewhere. I bought this to work with eBay and it absolutely works properly there. I don't know how compatible it'll be with other sites though and it can be very confusing about getting it to work with eBay. Basicaly, eBay does not display the ZP 450 model on the list of accepted printers that will work there. You will need to select the 2844 model and that selection will work perfectly with the ZP 450 model. They'll also say something really outdated about updating your Java drivers to some vintage version of it, but you will be absolutely OK if yours is currently up to date with whatever mysterious unknown things that Java actually does to your PC.

Basic installation really wasn't hard and it took me about 20 minutes to figure out what to do. You do not need the installation disc that came with this and if you do have one, it's going to be out of date and useless, so toss it out. Do a Google search for the proper Zebra driver and download it directly from the Zebra website. Do not download it from elsewhere as to avoid malware and trojans. In the ZIP file, you'll discover several EXE files to select from and SETUP.EXE is the one you want to click on to install the drivers.

The most important thing during installation is knowing which port you have this plugged into. Sadly I only knew that I was putting a "square plug" (AKA a USB Cable) into a "square hole" (AKA a USB Port) and I had no idea what option to select. Of course I guessed wrongly but luckily that's easily fixed. Select your Windows button, select "Devices and Printer", right click on the Zebra printer icon, select "printer properties", and select "ports." You'll discover a list of all possible ports and you'll need to change it to the proper one. For me it was the "USB002" and you'll probably want one of the USB selections if the seller included a small square ended cord (AKA a USB Cable) to go with this. You can use a vintage serial cable with this, but if you have any free USB slots and the USB cord, then you shouldn't be using serial ports. It is a very slow and outdated method of sending data to a printer and you may experience slower printing results because of it.

If you didn't get a printer cord with this, there are several dealers selling them cheaply from China. It's a cheap standard cord to get and your current ink jet printer may be using one like this already. The power cord is a little strange but there are also several dealers selling those cheaply as well, so that's not a huge worry if you buy one of these without any cords at all, it'll merely cost you probably another $10 to get the pair from a Chinese dealer.

Once the drivers are installed, make a simple TXT file, write anything you wish into that file and send it to the printer. You'll need to select which printer to print to or it'll go out to your current defaulted printer. If done right, the Zebra printer will spit out a label with your text on it. You can even further test it by having it print images in black and white but the DPI (dots per inch) is only about 200, so they won't look all that great with photos. 200dpi is perfect for simple labels but never images.

If your file stays in a printer queue and does nothing, then you'll have to check your settings and change it to the correct port and try again. If you try all the ports and still nothing happens, try reinstalling the drivers. I've seen users on Youtube saying that they needed to do an install a couple times to get theirs going but I didn't have that trouble at all. If you keep trying and trying and nothing happens, contact Zebra for some help. Once you do get it working, you should delete the zip file and the installation files that came out of it as those are not necessary anymore as it has put whatever it needed for it's functioning into the right places on your computer.

About buying one of these, you should be able to get a untested printer from a seller without any cords for about $50 to $75 but you're taking your chances and I wouldn't recommend that. Absolutely do NOT pay $160+ for one of these just because a seller is seemingly going out of his way to make you comfortable about warranties, installation help, free labels and whatever other good feelings and assurance there are. You should be able to buy a ZP 450 for about $100 off of someone who has a really poorly written description and you'll save yourself a bundle as this machine really isn't that hard to install and to get it working. The main thing is to look for the verbiage where the seller has stated that he has tested it and says it is good working order and you'll most likely will be fine as long as that seller has at least a few hundred decent feedbacks. Obvious buyer beware stuff, you know?

After about 15 minutes of playing with it to see what it can and cannot print out, you'll get a feeling that this is so much better than using an ink jet printer and why were you ever using that piece of junk in the first place. The labels are produced at about 2 seconds each and jams are so unlikely to happen. It doesn't have any ink, so you won't be constantly refilling messy ink carts and it's a complete work horse which should last you for years and years especially if you're a light user like myself.

There are some techie stuff involved with the machine which you can basically ignore. There are online manuals to explain all sorts of stuff about it as well but I've not read any of it because it's printing my postage out and that's all I really wanted or needed to know. You can get it to print out a "Printer Confirmation" sheet but most of it is probably meaningless to you. If you look towards the bottom of that sheet though, you'll see how many inches it went though and you can do some quick math to estimate approximately how many labels it has made in it's lifetime. Just take that number and divide by 6. Mine was barely used at around 2150ish labels, so it's still an infant with little wear and tear on the machine even though it was a bit scuffed up on the outside. So this number may be something you may want to ask the seller about if you are worried about a heavily used machine. The back of the machine will have a date on it (mine is a 2012 model) but that really doesn't matter a whole lot compared to how hard it has been worked with it's prior owner.

About label refills, yes, people do abuse UPS to get free labels but you can get them pretty cheaply as well. They are about 3 cents or lower per label in bulk which is very fair, so you do not have to steal from a company to feed this thing. I'm moralistic like that. They are often sold in spools of 250 labels and are really easy to install. You can check a Youtube video for help if you somehow just cannot figure it out. You'll want the 4x6 labels only but there are ways to make it print other smaller sizes of labels. I've not really explored that feature as I only wanted this to print 4X6 postage for my eBay orders. The labels themselves are wonderful as they just will not smear and the glue is far better on them than the junk that I've been using with my ink jet printer. These are thermal labels, so don't set your heat gun at them as they'll turn completely black. I did have to set it to print out at 101% though just to ease my OCD because at that percent it fills out the entire label perfectly and looks more professional to me than a just a teensy bit off center label.

Keeping it clean is essential or you will get "spotty" labels. Spotty labels happens when junk gets in the way of the thermal action. Mine was not cleaned out and during shipping all sorts of paper dust rattled around and got over the inside of the machine. This does effect printing as little fragments will get stuck to the paper as well as the head and that will cause spotty labels. So when you first get it, be sure clean the inside out with a normal cloth and shoot it with some blasts of canned air. Cleaning the head is typically just a cotton ball with a little dab of rubbing alcohol. You can change the head of the machine, but I've heard its something that is rarely done as you'd have to be putting it though a lot of use to get it to wear out like that.

I bought a label printer because my several years old ink jet printer just wouldn't print labels out correctly anymore. I think the double thick paper wasn't really intented for that printer and over the years it slowly wrecked the printer and now I'm experiencing frequent jamming and labels that won't print correctly at all. It has became a huge struggle in recent months and on top of that for years I have spent simply far too long taping down the labels to avoid rain drops from smearing the ink as well as labels peeling away from the package (they just don't stick that well for some unknown reason that I could never figure out). I was foolishly considering buying yet another $40 HP ink jet printer from Walmart and doing the same thing I've been doing for years, but somehow I had discovered that label printers existed for the common person and that they were only around $100 used! I honestly thought that they were thousands of dollars each and only for the big dealers that prints out hundreds or thousands of labels a day...that tells you how out of date and ignorant I was about this technology. So even if you are a small seller with only a few orders a day or a larger sized one printing out a couple hundred a day, this will surely benefit you.

There are lots of different Zebra models out there and even today I cannot figure out all of the differences. The 2844 is much older and slower but appears to be the first affordable home model which people used. The ZP 550 I think has a better dpi or can do something better, but whatever there are so many Zebra models out there that it's not really worth taking the time thinking about it, just get one and you'll be happy with it. Yes, honestly, I think you can get any Zebra you feel like buying and you'll be happy enough with it, but the "ZP 450" appears to be the most abundant one that can be found at the moment. I bought mine mostly because it was the first fairly priced one with all cables that I found after three days of looking at various models and wondering just which to get. Even now I don't think it really mattered as they are all basically the same.

SUPER MEGA IMPORTANT! If you are cheap like me, then you had surely seen the cheap $60 Dyno label printer. Do not get that! You need to buy their own branded labels and enter a code off of the box to use these labels. That ends up costing you more in the long run as their labels are a bit too pricey. Spend just a little more to get a Zebra where you'll always be able to use whatever cheap labels you wish with it.

In conclusion, I feel that you too will be happy with a Zebra once you get though the nervousness of getting it set up and going as well as actually deciding that spending two to three times the price of a cheap ink jet printer is really worth doing. Most buy it now type prices for any Zebra label printer no matter where you go will currently be around $150 level which is a just too much. If you have patience and check around daily you should be able to get one for $100ish like I had done, although honestly I got lucky and mine was only up on a website for 20 minutes before I purchased it. They do sell rather quickly for around $100 when the seller confirms that it's been tested and works. Untested ones tend to linger around at $100 as no one really wants to take a chance on a probable $100 paperweight. Yet, overall there really isn't that much to it to go wrong with it so your worries will be fairly low. It works as one should expect and it's so much better than dealing with an ink jet to print labels. I honestly wish I had known about these things and bought one some 10 years ago as it's just that good. I'm spending all that saved time writing long winded reviews about the product! LOL! Thanks for reading!
« previous page
   (Page 1 of 1, totaling 2 entries)   
next page »