Sunday, April 24. 2016
Nothing really much to talk about since the last post. It sucks being in the house all the time with no real place to go to find cool stuff. There were a few rummage sales recently, but nothing amazing gotten at those to discuss.
The record show today was more of the same as always. I go mostly for routine than expecting to get anything. One seller seemed to be getting cleaned out as he appeared to have decent records for $1 each, but sadly I got there too late and didn't see anything that excited me.
So I went mostly to the old standbys for my stuff and got a handful of decent LPs.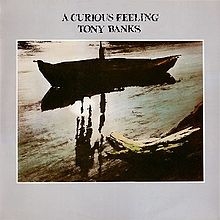 Tony Banks - A Curious Feeling - Not sure if I have this one or not. Someday I'll properly sort all my prog LPs and make a list. $2
Bootsy's Rubber Band - This Boot is Made for Fonk-N (with the 8-page almost comic coloring book). $2 I'm not a huge fan of funk, but I won't refuse it for $2 either, as I sometimes get in the mood for it. Also the booklet inside was rather interesting!
Steve Hillage - Fish Rising $4. This is a UK Import and I've never seen this one before. Listening to it as I'm typing this up and it's really good! I've had other Hillage on CD and never really cared for them too much, but this one was luckily a keeper!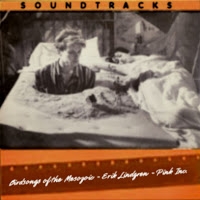 Birdsongs of the Mosozoic - Erik Lindren - Pink Inc. - Soundtracks $2. I have heard the name "Birdsongs of the Mosozoic" before though my Prog Rock studies but never tried them out. I checked on youtube before buying and was blown away. Some really out there Prog! So I took a chance on this one being like what I heard online.
Julie Brown - Goddess in Progress $2. I love the song "The Homecoming Queen's Got a Gun" and I have it on constant rotation on several CDrs and devices, as well as hunted down remixes and the like. I've a cassette tape of Julie that got wobbly and squeeks, so it's nice to have an LP of it as well. A bonus is that the back is a "newspaper" much like the Jethro Tull "Thick as a Brick" LP was one. So I got to learn a little bit more about who the homecoming queen really was. BONUS! Someday I'll have to order her CD as I do like a few other of her songs too.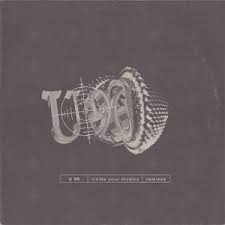 U 96 - Inside Your Dreams (Remixes) $2. I love U 96's "Das Boot" and "Replugged", but this one is a complete new one to me. I think it's after the excellent "Replugged" LP. I'm looking on wiki and it seems after that LP they completely changed their sound, so it was probably good that I was never able to locate any of their later stuff until today. I did try this on Youtube before buying and it sounded very good, like classic U 96, so I dunno. I just checked the German wiki and it appears to be a non-album release sandwiched between the two Albums, so it could be the very last thing from them that I would like. Someday I'll check their newer stuff out I bet! Oh! It's a 2 LP release but it's one of those foolish remix singles where they could have easily put everything on one LP. I think around that time they done this stuff to milk more money out from fools or something. I recall the companies also releasing two separate CD remix single cds too and we were supposed to college both for some reason. The 90s sucked in that aspect.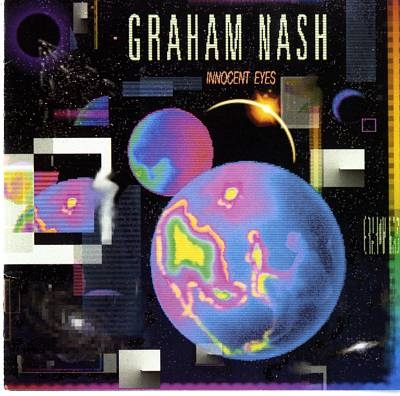 Graham Nash - Innocent Eyes $1. I was very cold there. My toes were getting num. I was hungry but I'm always hungry. I wasn't thinking right as this was the last LP I bought and I was already there for 4 hours now. I thought I was buying a Graham PARKER LP. I mean the cover is way cool, just like "Squeezing Out Sparks," "The Real Macaw," or even "The Up Escalator." (which for some reason I keep thinking it's the King Crimson's "Red" LP cover). Anyway, I am now trying the title track on Youtube and it's not bad at all. LOL! Very mid-80s sorta like Journey. I got lucky there! I don't recall liking any "Crosby Stills and Nash" nor any of their LPs sounding like anything this.
There were several LPs that I took notes down about so I can look them up later. Trying hard to avoid buying stuff that I sorta like and keep it to stuff I certainly like.
Riot - "Narita" sounded killer, but only this one track so I was uncertain. https://www.youtube.com/watch?v=cvZ5yyLF4sk
Lushus Daim & The Pretty Vain - "More Than You Can Handle" sounded very good, but then again I may have been in the mood for a Paula Abdul/Apollonia type music. It does grow tiresome really fast.
Hollies - "5317704" Har har, get it? That's Hollies in calculator speak! "Say it aint so, Jo" sounds very proggie but then again that's a Murray Head song that Roger Daltrey made popular, so it was probably way better because it wasn't a typical bad Hollies song. The LP sounded very uneven and some tracks really sucked like the Hollies normally does. It was interestering as I wasn't aware the Hollies had LPs into the 80s.
« previous page
   (Page 1 of 1, totaling 1 entries)   
next page »