Saturday, October 22. 2016
Another season of Garage Sales is just about to an end. One more church sale, the one I got really lucky at last year and wrote about here several entries back and that's it for the year. Assuming I don't get energy and go to the Syracuse flea market a few times. I used to do that about 5 times a winter, and I just may go tomorrow as there is a comic book show the same day.
This year was really marred by my sick mother who eventually passed away. I basically missed out on half the season as I had to take intensely care of her. Actually I couldn't work on my ebay stuff for about 3 months. First month taking her to all sorts of appointments and hospital visits. The second month with Hospice, the funeral, tons of paperwork and depression. The third month trying to fight depression and get used to a new way of life. So I missed a lot work, but luckily it wasn't at the start of the season where the most stuff can be got, but I did miss probably 40% of my productive cycle.
I mean I do the same routine every year just about, and I missed about 40% of that this year with mom. When she was healthy, I still couldn't go as far away as I liked, sometimes I would go to towns over a hour away. That means no Sharon Springs, Minoa, the huge antique show in Bouckville, Adams, Lowville, etc. Honestly I pushed my luck going to several places that was a half hour away. And these events typically would last me until 3 or 4 PM when I would get home, but I had to rush home for mom around noon as she usually would wake up at 11 or so.
A side note, all those home nurses would want to get her up and going at the crack of 8 AM which pissed us both so much because we had a nice little schedule set up. She stays up late, to about 2 AM and slept whenever she wished all day long, with my getting her meals and staying in her room all day for company. She hated being alone, even though she was so mean to me most of the time.
Honestly she really took up a lot of my time, so I barely could process any items for listing on ebay. And the mental stress was enormous and I could barely function as a normal human. I was mostly dealing with keeping sane, rather than doing my work. She wasn't a very pleasant women when healthy, she was extra harsh and mean to me when sick.
So long story short (too late I know), I didn't get a lot of decent inventory, but I do have enough in storage to last me though the winter. I'll probably start advertising to buy collections rather than running around as it's getting a bit hard to rely on chance to get good stuff. I usually hit one good sale a day and it makes my week but I need to hit probably 40 homes just to get that one payoff. Sometimes I think it's easier if have the people coming to me instead. I know some of my other buddies getting these killer collections and I'm so jealous as it seems that I'm fighting dozens of others for garage sale scraps.
Anyway, I decided to write today because I had an obvious troll of a customer and I just had to vent. He got his stuff and then wrote:
--------
Hi there all 3 items I have purchased from you arrived damaged I would please like to request a 50% partial refund on the cost of each item.
THanks!
--------
I was like, "Whaaa?" Obviously I've come across a trolling jerk, I get them now and then. The trouble is that ebay caters to these jerks, but over the years if these jerks files too many claims, they get their accounts closed and ISPs banned, so their numbers has really dwindled down over the years. Some smarter jerks knows how to play the system like this though. They try hard to get the seller to refund on their own, because that process doesn't put any suspicious behind-the-scenes marks on the buyers accounts. Sellers (like myself) are so scared to get any marks on their accounts and it's so easy to loose your accounts with about 5 scammers for the year. Getting 5 bad marks on your account is so easy to happen if you sell the right scammer attractant stuff (video games, rap CDs, etc). Anyway, the way around a buyer from getting secret marks on their account is to troll the sellers by claiming 'dis shit ain't right' and have the seller shaking in their boots to do whatever the customer wishes to avoid loosing their accounts. Here is what I wrote to him:
--------
HI, sorry about any damages to the items. I do require some information from you before proceeding. Please describe in detail what is wrong with each item. You need to take images of the damage and upload them up to https://postimage.org/ Do not upload them to ebay as they shrink the images down to a small size which I cannot see. Then send me the links to the images so I can see the damage in question. Then I can react accordingly on a refund.
--------
Actually I rewrote this over and over and over again. I had spent about two hours on it. I have this horrible habit of spending all day writing stuff as I just cannot express myself well. I know it's always a futile effort as the person will just write off some full-assed (not even half assed!) reply, not worthy of all the time, effort and worry I put into the situation, but I always try hard because just in case the person is genuine and not a full blown jackass. Of course what I got back was shit:
--------
Hi there - as you can see there are problems. The penguin is heavily marked on the bottom, the figure is missing and all i recieved was the box and the prints are damaged and are not genuine official merchandise!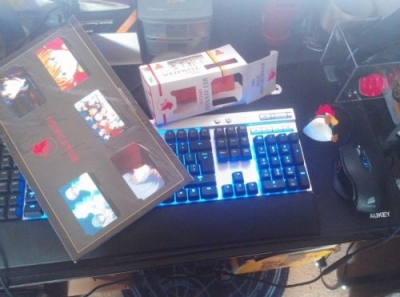 --------
I was about to go full hog and indulge this moron. I wanted to say, that I really do need images uploaded to the site that I mentioned as this image turned out so badly. I couldn't see any damage and ebay made the image crap. I went on to write that a couple times and then I just deleted it all.
I also wanted to say that the cards were exactly as shown in the listing that he bought them, and that I said that they were bent at the edge. And they were authentic, not bootlegs.
And what moron is going to grouch about the BOTTOM of the figure that you'll never see? And you fucking asshole...you OBVIOUSLY took the figure out of the box and placed it somewhere, we would never send an empty box. I mean the lid to the fucking box is open and it's so obvious what had happened.
Of course I would have spent about 14 hours writing and rewriting this as I have no clue how to put that nicely (not accusing nor insulting), but then I got to realize (actually remember) two things. That as an eBay seller, I have no rights. If I fought this, it would surely only get worse for me. I stand to loose a ton of money because Ebay UK rules has a seller paying full return costs and the jackass is probably going to wreck the items or send an empty box back? And on top of that I'll get all sorts of "defect" strikes against my account?
The other thing I realized was that he was obviously trolling me and anything further that I could argue about is just feeding a troll. That it's futile for me to spend hours and hours and trying to talk logic and reason to someone is obviously playing with me. It'll get me no where. I keep forgetting that I cannot be nice to all people, some are just assholes and I should leave them for dead rather than respecting them with all my effort and ability to work it out.
Ultimately it ended up to be a $9 refund and totally so not worth any further effort, so I done what the bigger companies does when they want someone to shut up and go away. I issued a "courtesy refund" and called it as such.
For anyone with a brain (and I know it will totally go over the head of this buyer), a courtesy refund (and calling it as such) is one of the worse insults you can possibly do upon a person. That's because you are giving money away just because you just want them to shut up and go away, not because you felt that they were right or anything.
I had never heard of the concept before until I had ebay done that to me once. I'm not a moron though, I knew instantly it was an insult action and it infuriated the hell out of me and set me into a rage because I was dead right in what had happened and I wanted them to see the error of the situation and to ensure ebay would never do it again. I didn't want them to just shut me up and have me go away. I didn't care about the money involved either, I just didn't want the situation to keep happening! I felt they would never give another "courtesy refund" should it happen again and will tell me to go fuck off (but in far more polite words). I wanted the issue resolved and to never happen again, not so much the refund.
I do wish that being an ebay seller that I had power and control over matters, but sadly I'm just a middleman in relation to rules and policies. I have no real authority, I just follow the will of others. A lot of people selling on the ebay try to gain that ability by having huge boilerplate babble written into their listings. They state this and that, that we are not responsible for X and Y, but the truth is that you as a seller have no control over anything like that. Ebay overrides everything you could possibly say and do.
All you can do is try to play the eBay rules into your favor in situations and learn when all is obviously hopeless and to just give up at that point. Never make matters worse for yourself by resisting. Any resisting your "masters" will bite you hard in the ass no matter how right you actually are. It's a hard lesson and one most sellers refuse to accept.
The trouble is it's hard to do the mature thing when I know I'm dead right PLUS I'm being horribly insulted. I think most people would have trouble with this as well. It's like someone saying, I'm going to fuck you over and then rub actual shit into your face, and all you can do is sit there and smile about it.
But whatever...I have long since set up a system where a few dollars are put away every month for "theft" situations like this. I think all business should do this as it's an unavoidable fact of business. It should be expected that not all transactions will go well and there will be crooked people trying to rip you off. All you can do is plan for it and hope its not overwhelmingly enough to put you out of business.
So, yeah, I've come to expect these things to happen, but damn, I wish the customers wouldn't insult my intelligence just like this one had done. But whatever, I just got to remember that it's a measly $9 refund, so lets get it done and over with and get you out of my little world as you're an insignificant gnat to me. My life is too precious to fight for hours and hours over what equates to being a lunch out for the day. May you take your $9 and my stuff and I hope you rot in hell with it, you deceiving bastard.
See, the only thing I can do is rant and cuss about it, but it does make me feel SOOOOO much better, as I'm making the entire world (actually whomever actually somehow manages to find this blog, which is probably no one) to see what a jerk you are. Sure one could say I'm looking like a jerk letting it get to me and to swear up a storm, but who cares, I do what makes me happy to survive in life, and this does just that.
Sadly I had to do a lot of these concessions lately with the companies dealing with my mother's death, it wasted over a month of my life dealing with them and I'm fighting over what amounts to be about $1000 dollars. It's a lot of money, yeah, but at the same time it's not really a lot. In the end, I'm never going to win and ultimately I'm going to waste a ton of man hours (which is indirect money as I could be working instead and making real money) fighting it. I'm just really fed up with it all and want to get back to a normal life once again. The timing of this jerk is really awful, but then again I think I gave up and let him have his way because I'm just not wanting to fight any more over money, I just want to recover and recharge myself from these last horrible few months...actually over two years as taking mom in to take care of her was probably the hardest thing ever in my life. But morally it was right, as I don't feel a person who took care of me for some 41 years should be locked away in a nursing home. Family takes care of one another in need. I know I'm the only one who thinks like this, but I dunno, whatever, the world is just fucked up and I like to think I'm doing the best things I can possibly do.
« previous page
   (Page 1 of 1, totaling 1 entries)   
next page »