Thursday, January 19. 2017
Happy New Year. Just a fast post for today as nothing really entertaining is going on with my life. I just wanted to show yet another bad eBay customer. I could tell right off the bat he would be trouble as I've seen this sort of thing dozens of times.
First of all, I was raised to believe that it is very rude to talk business with another person in this fashion. You need to use proper English and make yourself somewhat understandable. Of course I couldn't really understand what he was going on about but I knew the jist of it as I've seen messages like this dozens of times. He wanted me to wait some period of time and promised to pay me whatever more. I couldn't care less what the details were because nine times of out ten they never follow though. Half of the time they come up with more excuses and it's just not worth my time to be strung along like that. I rather have a certain $40 now from a no hassle buyer than a promise today and waiting two weeks for a payment which will never come. As they say, "this is not my first rodeo."
Sometimes if I'm in a good mood and the item is low in value AND they write a nice message ANNNND if they have high feedback, then I'll entertain the person and will wait, but this person was none of that. In fact, his horrible writing skills put me off somewhat terribly and I was quite insulted by it! So I cut him a curt short reply as honestly there is never really a good way to go about these things and I know how they always end up. Of course this guy proved yet again that I'm more often right than wrong about these things.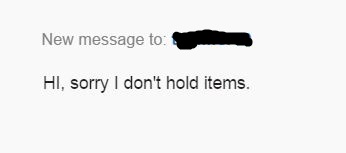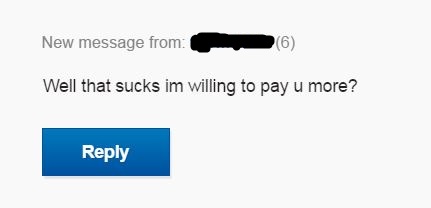 Actually it's kind of a riot what he wrote and I felt I should share it to the world. I was like "whatever" to it and blocked him, never answering him back. He probably saw it as bad business, but I've been doing this for 20 years. I know chances are high that I wouldn't get paid and I just didn't want to be bothered by his nonsense. The way I see it, he could always apply for a credit card if he was serious about it, which is why I said what I did about applying for a credit card. Dead beats never apply for credit cards and the guy was probably already a bad risk, so if they wouldn't take a chance on him why should I?
Anyway, if you want to be taken seriously in any business matter, then always write to the seller using manners, which includes using proper language. If he doesn't want to do what you are asking, then thank the person back and go away. That's proper business etiquette, if not proper manners. Well...that's how I was raised at least. I rarely see it put into use though. Let's pitch a fit and call sellers names instead. That's how things work in the 2000s, right? Oh well!
« previous page
   (Page 1 of 1, totaling 1 entries)   
next page »