Thursday, October 22. 2015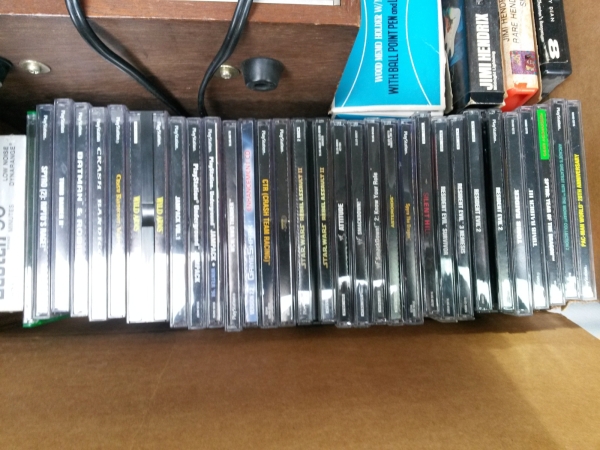 Final church sale of the year, unless one pops up that I don't know about. It's one that I just discovered this past Spring in Clinton. They don't really advertise that well. Actually...most church sales don't advertise very well as they are ran by older women who are not into computers and craigslist and the like. Sometimes have a tiny ad in the newspaper and usually someone puts a blurb on the churches website which no one really sees. So a lot of the time it's word of mouth to know when these are. BUT I found out about it a few weeks ago by checking their website and seeing they were planning a fall sale and so far they didn't advertise anywhere else, so the turnout was mild. I'm rather glad for that as this sale is REALLY GOOD as they have a large amount of people who are fairly rich and doesn't care about whatever they give away. So I really done well.
The image is an example of someones PSX collection. A lot of decent titles for once, but nothing I needed for myself. I'm writing this about 12 hours after I bought them and I already sold 14 of the games on ebay for about $140ish. But that wasn't all I got. I got this $1000 video camera...but it's a 2005 model and basically obsolete but still fully functional. It's worth about $150 now. I tested it out and it seems some kid got it for Christmas and he's on there testing it out. That was some generous mother to spend $1000 (probably $850 on sale I'm assuming) and sadly he only used it a short amount of time. He had two of those micro tapes on there and he recorded himself and his friends taking about band stuff and then he played at a concert at Rome. There were rather good for Seniors (I think they were Seniors). Anyway, he took about 180 images, mostly of himself and about 4 hours of recordings and that's it. So the camera is basically like new. Had fun looking at all of it.
In addition to that, I got lots of decent sellable stuff, but all lower value. A Garmin GPS 2010 version, a recorder 8-track machine...well these vintage 70s machines are so hard to deal in because they tend to go out of allignment and cost a small fortune to repair, so I don't really get them often as they seldom are worth selling, but this sale tends to sell stuff cheap and I was in a hell of a good mood thanks to the PSX games, that I thought why not. LOL! They had about 50 or so 8-tracks, but they were all recorded and used, so I picked up two tapes that was still sealed new and a pair of Jimi Hendrix and a rarer Beach Boys album. Oddly there was a sealed new reel to reel tape inside of the box too, which I took as that's a fast $10 on ebay.
Actually I got to the sale a bit late and there was a line out the door, so when I rushed in there was already people poking at the toys. Luckily the toys this time wasn't all that (in the Summer I got to this sale a couple hours late and they had a bit of older toys, so I made sure to get there before it opened in case they had older toys again). So toy wise I got a bunch of Bayblade (I left the arena as they are too large to deal with and not worth the time, but the little toys always are). I had this shoe box of girly stuff, including a My Little Pony stuff from the mid 90s, but later on I looked though it all and it wasn't that good, so I put it aside. About 5 minutes later a woman found the box and was excited to get it for her daughter. Good to see that! LOL
At the toy section I got a 60s Spryograph, something that is always worth a good sale, but this one was more complete than how I typically find them. Meaning they still had the proper paper and correct pens! It was only missing one cog, which I took from another set that I bought a few months ago. That set was missing several parts, so I decided to use it for spare parts and so far it's already paying off. I then found a vintage TMNT wrapping paper in a roll. No clue if it's worth fooling around with, but I know it's very uncommon item to find for TMNT, so I couldn't resist. Sadly by this time the toy section was crowded by people and I just couldn't see anymore, so I decided to check the DVDs/CDs out just in case and my eyes went wide when I found so many PSX games, the first one I saw was Wild Arms and I was like OMG OMG, let this be an RPG collection! LOL Of course it wasn't, but I just took the entire PSX games as there wasn't any time to really worry about which ones were garbage. Luckily most of them were worth getting and I just bought them all as I didn't want to look them all up to see which ones should be put back. I tend to do that whenever I see several $20 to $30 games, I'm not about to worry about a few $1 games in the mix. No sports games either. WOW!
They had a lot of CDs as well, but they were typically lousy ones. I don't know why but most church sale and book sale donators has this new age or lame jazz tastes. Sure there was some rock, but stuff from the last 20 years that I don't really know anything about. I did get a Frank Zappa one (huge surprise to see one of those) and a Dave Brubeck one. I swore Dave Brubeck was from some rock band, but it ended up being pure jazz and I'll end up tossing it in one of my CD bundles of rejected CDs that I always end up with after a year of buying cds at garage sales.
So after the toys and media section, there wasn't anything super exciting for me. The books sucked and the toys wasn't great. I then found the Childrens Book section and someone donated a large collection of Baby Sitter's Club books. They are always good for 75 cents to $1.50 a book depending on how complete the series is. Sadly they were a bit rough, but I think I got 40 to 50 of them, so I was snapping all those up. Got a Magic Eye book (I know those things were selling for a bit not too long ago, but I think the nostoliga fad on those died and they are back to being next to worthless, but I figured that I'd get it and would inspect it later). Also got a pair of Monster High books for myself. That's about it for kiddie books, but I got so much of it that it filled a large box.
After that I wandered around to the general household goods. Oddly I found that camera and the Garmin. The camera was in a bag and people rarely open bags up, the garmin was in a ratty baggie and looked like some random electronics. I thought it was a recharging plate at first because it looked so ratty. LOL Also I went on and found an ipod stereo, still new in box. That's something else that people tend to overlook is stuff new in box when surrounded by lots of loose open stuff. The strereo seems to be worth at least $35 perhaps up to $50 if I'm lucky.
Then lots of little oddball stuff. A 60s-70s wooden figure from Japan....I have had a few of the viking ones and they seem to be worth a lot of money in Japan. This is basically from the same lineup, but not a viking. It was two of those things on some spool where you tear off paper and use one of them as a pen to write you note on. I don't think I'll have much luck moving it, but I wanted to take a chance as it reminded me of the pair of 70s Cube Calendars that I got there in the summer. I thought as they are stationary type stuff that perhaps I'll get lucky with this. Oh, and I also got this pair of bookends, Natural Onyx bookends. They are VERY iffy as they could be $10 and never sell or worth $50+. There doesn't seem to be any reason behind it but again I thought why not? LOL One of them fell apart but a little glue and it'll be fine.
Oh, seems that I forgot about a USA film Godzilla plush that I later found under the toy table, I've had them at least twice before and they are always popular. And I found a vintage Power Rangers towel, the condition isn't that great, but it's a very unusual item anyway. Oh, and an 70s-80s Scribbler's Learn with Me toy. That's something I recall from my youth but never really paying much attention to it. So I'll mess around with that some to see what it is exactly before selling it.
It seems that's all I got. There was probably another box worth of stuff that I could have gathered up, stuff worth below $10 but I'm trying to keep away from lower value stuff, especially when I'm not 100% certain of it selling. Sadly there was almost nothing for me, but it's better to get a lot of stuff to sell rather than more stuff which I don't really need. I'm thinking the stuff I got should fetch me about $500 total I'm guessing. Wish I had more weekends like that. This year was pretty tough as most sales were the same exact sales for the last 6 to 8 years. There are not enough new people having sales to get rid of their junk for too low prices.
What was nice is that I only had $22 dollars in my wallet. I honestly didn't expect to find as many good items as I had, so I didn't bother hitting a bank. So I told the lady there that and I would have to hit an ATM up but luckily she took $22 for all that stuff. So sweet! I'll have to remember to give them a $20 donation in the Summer as I think everything would have been $40ish if they went by the pricing charts. Then again, they were giving away the stuff for such great prices, people where leaving there with huge bundles of stuff for under $20 so whatever. LOL
Anyway, it was a pretty good end to the sales season. There is one more book sale (way down the road from this sale amazingly enough) but I don't really expect much from that. I've been there a few times now and they tend to pick over the books and charge a little too much of what they do have. The CDs/DVDs are those ritsy artisy ones that I mentioned before and rarely worth getting. Yet people go though all these things as well as the books like locuses and get anyting of value fast. So I'm not expecting to get anything whenever they'll be having that. No date yet, but it is usually around Halloween.
Comments
Display comments as (
Linear
| Threaded)
No comments
The author does not allow comments to this entry